By David Birklid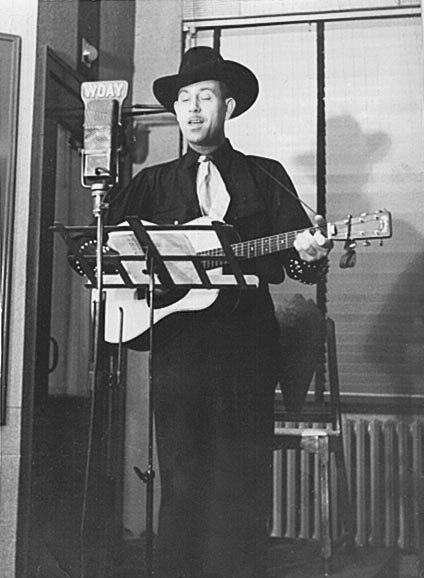 Lars Bang Birklid was born on Feb. 4th, 1904 in the Sheyenne river valley south of Nome, ND. Here he did farm work on the home place and worked out for other farmers. He also worked on a road building crew. Dad learned to play the guitar from his mother,Mary, and learned to play the fiddle from some of his friends. In the early 1930's because of the drought there was little money and not much to do. He went to Fargo and auditioned for a singing job on the radio and that started his musical profession. In March 1932 He married Helene Huseby who grew up on a farm a few miles from the Birklid farm. They went to St. Joseph, Missouri where he sang for radio station KFEQ. After a short time there they went to Minot, ND. and then in 1935 they went to Minneapolis, MN. where he sang for WCCO. They stayed there until 1937. After that they moved back to Fargo and sang for radio station WDAY where sang for over 35 years. When dad sang for WCCO he was called the Singing Swede but that was changed to the Texas Ranger when he went back to ND.
In 1947 we moved from the farm south of Nome to a small farm a few miles northwest of Fargo where we lived until we were out of college and in 1962 dad and mom moved to West Fargo, ND where they both lived until they died.
Dad had a radio show every weekday. Sometimes he had three a day. They also went out on many personal appearances such as fairs, talent shows,rodeos ect. He was very busy with both his singing and farm work. Dad was a folk and ballad singer. He sang many songs about the cowboys and the Western way of life plus many songs from the Civil War Era. He usually sang at least one hymn in his program and also a Norwegian Hymn or folk ballad which was very popular since many of his radio audience were Norwegians who could understand and speak the language. He was very popular and it was fun for me to go up to the studio during his shows and go with him on his personal appearances. Dad and mom were fluent in Norwegian-they were confirmed in it.
Dad was a big man. He was six foot three and weighed two hundred pounds. He was also very strong. Several times I saw him tear a deck of cards in half which is not easy to do. He was a very good father. I never saw him lose his temper or get very mad. The most upset he'd get is when our professional baseball team (The Minnesota Twins) lost or played poorly. He was a very unselfish man, God fearing and very honest. We all had a good role model from dad and to make it better, his wife, Helene was just as good as he was!!!
Dad taught me many things about different subjects which I'm grateful for. He taught me how to play the guitar and bought me my first banjo plus many other things. I still think of him very often and at times I still think I could go to the phone and call him.
David